All Wizard & Warriors Maps - 800Kb
This Zip file contains every single map in the Game. This was designed and packaged by our friend, Rick Volberding!
Hit points 9999 Trainer - 11Kb
This is a Trainer that modifies your Hit points to all characters from whatever they were to 9999. You need to run the trainer before the game is run. If you are having problems running it, please email the person that wrote this. We have not run it, nor really want to just YET! <g>
Unlimited Gold Cheat

TEXT

When you are in the town inn and create a party, you can pool gold to one of the characters who will then have 1200 gold pieces. It is important that you do not take this "Pooled Gold" character out of the party. It should always say "Out on Adventure" for that character. When you re-add the newly created characters to the party, you will discover that they all have 200 gold pieces again! Pool Gold on the same character that you pooled gold on before. Another 1000 gold pieces. Remove then re-add. Pool Gold. +1000! Repeat as necessary.
WWEdit v1.0 - 104Kb
With this editor you can edit only the characters in town (stored in the file 'roster.dat' in the Wizards & Warriors directory).

To edit a character return into any town and exit the game and start the editor. All the fields of the character editor are pretty self-explaining, there are, however, limits for skills (max. 26) and attributes (max. 12), as well as for the guild level (max. 10).

© 2019 The Great Escape Studios & Ironworks Gaming All Rights Reserved
Email comments or questions to the Webmaster
Terms under which this Service is Provided to you.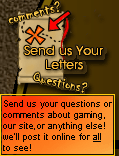 NWN MASSIVE Hakpak Much like the CEP hakpak collection, 'Massive v1.02' is even larger than CEP, adds totally custom items, tilesets, monsters, icons, placeables and 1000's of other things.

Not only does Massive v1.02 have all the best from the custom content Authors, there are tons of custom content created by Ironworks. You will only see this custom content in Massive! Always up-to-date, and created for the Ironworks NWN PW Mod online, called "Escape from Undermountain".
Online since 2002!

---
Remember to visit the Forums for the latest news and information on today's CRPG's!