Last Updated on Sept 29th 2007

New Forum Upgrade Finished
We have upgraded the Ironworks Forum's software to vBulletin, which is a MUCH nicer, easier forum software that allows file attachments! Share your work with others, post your Artwork!
Added New Teleporter Animation
This 10 Frame animation is the Teleporter seen in Eye of the Beholder 1, but has been totally redrawn, and has a higher resolution! This can be triggered, and matched up with the teleporter Wall set (Seen here). Click on this Image to download the Zipfile.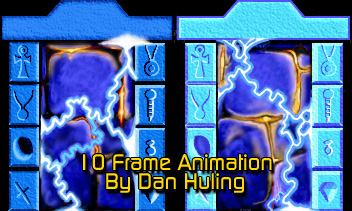 Egyptian & More Forest Wallsets Released
People have requested some Egyptian wallsets for DC, so I whipped 3 of them up for you. Also, I have created a transparency version of the Forest wallset (Requested as well). Much more soon!
Game Design added & Release Date list revealed
I've added Harri Polsa's "The Last Days of Autumn" game design and as well as our Dungeon Craft Release Date schedule for 2002--if you have a design in the works, and know roughly when it will be complete, send us release date info. See all of this Here.
12 New Wallsets added!
I have redesigned the Calimport wallsets which come with the install of Dungeon Craft. As well as re-designing the wallsets, I have created many more. Some are 'Forest' wallsets. Some are Library Bookcase wallsets. As well as stairs (Up and Down) Wallsets! Many more soon!
New Eye of the Beholder Backdrops Added
These backdrops go with the Eye of the Beholder Wallsets I released last week. There are a large variety of variations on the backdrops to give detail. Many also have a 'reverse' backdrop so you can use a different backdrop --this gives the player a better sense of movement.
71 New Small Pic's Released
Most of these 71 New Small Pic's are converted Artwork from the Unlimited Adventures Game. The Entire Library will eventually be remade, for the Dungeon Craft World Editor. Many hours have been put into each and every one of the UA Converted images--Most were completely redrawn (Because the old images were just SO pixilated) Drop me an email Here to let me know what you think of the converted images! We'll have more being added as the weeks go on.
Eye of the Beholder Wall-sets Released!
I have released the first large batch of Wallsets based on the Wall Designs from the RPG Game "Eye of the Beholder". Each wall-set level has multiple tiles. These were all done by hand, so the detail is as high as possible. Higher Resolution versions for these for 800x600 and 1023x768 will be released soon.

100's of Small Pic's to be released Sunday
I have been working on a HUGE conversion of the ENTIRE Library of Small Pics from the Original Unlimited Adventures have been converted to High-resolution and most of them have been re-drawn. Many, MANY hours have gone into these, and they look really nice.
I'm still 're-touching' the last groups of them, but will start releasing what I have done this Sunday!
Below, see the difference many
of these new converted Small Pic's will have!

| | |
| --- | --- |
| | |
| Original Unlimited Adventures Artwork | New Enhanced Dungeon Craft Artwork |

Entire Site Redesigned
Welcome to the brand NEW Dungeon Craft Re-Design! Along with the new Design, we have added TONS of brand new Artwork, along with some new areas! Check them out! We have added the following NEW Artwork: 70 Player Portraits, 87 Small Pics, 5 Monster Icons
Added 4 New Monster Icons -More to come!
I've uploaded 4 new Monster Icons for Dungeon Craft today, and will be releasing lots more other art as well (Wall and SmallPic art). Should be before December 1st. Keep an eye out for it!
Icon Templates up for Download
Many people have been asking for Icon 'Templates'. I have zipped up the set that has small, tall, wide, Big and XLarge. Download them Here
13 NEW Monster Icons added!
I've added a total of 13 NEW Monster Images, many are brand new creations, as well as many familiar Monsters from the Goldbox Designs.

Added 3 NEW Overland Maps
I have added 3 Brand New Overland Maps to the Library, 2 of them are scans from the new

Forgotten Realms Resource Book (Poster). But Scanning stuff isn't going to be the norm here--99% of it will be all Had made by me and others. The 3rd new Overland Map is Drawn by me, and covers Silverymoon, Mithral Hall and many other areas. See it Here!
Added Wall Sets & Monster Icons
I've added a bunch of Monster Icons, and a few Wall Sets for Dungeon Craft. Also, I have Added the Official Cursor set, you can download that right here.
Added Overland and Player Icons to Image Archives!
I've been adding many NEW Player Icons for Dungeon Craft, and also the two Overland Maps I have finished recently. The other areas will be added in the next few days!
Backdrop Artwork Added to Image Archives
I've added most of the Backdrop Artwork I have made for Dungeon Craft. I will have more as time goes by. All the other areas will be added during the week as well. Wall sets are next.
10 NEW screenshots and Artwork
Check out the latest Art I am working on, and some of the screenshots of the art in the engine! Lots more to come!
Dungeon Craft version .6971
This fixes more bugs, from the previous release.
Sorry about not updating, almost done!
I've got so many projects going at once, I needed to get some of them done. Now I'm back to finish up this Artwork Vault! I've got another Awesome Overland Map complete, and tons of Walls and Icons ready. I'm doing the entire 127 Monster icons set too. And MANY more. So hold in there, And remember to post on the forum (See button above). we need to get this project out there.. let everyone know about this free awesome program!! :-)


Artwork Vault almost complete
Since we went down unexpectedly last week, it delayed getting the Graphics Vault up and finished. I'm working on it now, so expect it soon! It'll contain lots of Icons, Big Pics, and tons of other stuff. You will also be able to upload your own artwork!
New DC Website Re-launched
We've redesigned the entire Dungeon Craft site! Now it has areas such as the Status of DC, a downloads area, and in a few days, we'll have a growing Artwork section. Keep checking for the latest updates!
New stuff to be released soon
As well as new stuff, this Dungeon Craft site will be expanding to many NEW areas. One will be a growing graphics library, for our official releases and add-on to Dungeon Craft. We also plan to have Modules up for download as well. You will be able to upload your artwork and modules as well. Check back in about a week (Jan 15th) and check it out!




The Moonsea Overland Map!
The Moonsea Overland Map is complete, view it Here. Its FULL 24bit color and a lot larger for Dungeon Craft. I've made this overland map for the Module that I'm working on called "Pool of Twilight", its a sequel to the Pools of Darkness SSI Goldbox series, and Based on the Book by TSR.

New Screenshots Today
We've uploaded a few new screenshots of the editor in action, along with new artwork. Check them out Here.
Preview of Dungeon Craft Up
For more info on the game we're working on, check out the preview we've added to Ironworks for an in-depth preview on exactly what Dungeon Craft: UAF is, and a bunch of screenshots. You can also visit the lead programmers website, and download the latest BETA of the game, and help us work out the bugs, and give us you opinions and ideas for more options in the game!

New Artwork Soon
To keep the size of Dungeon Craft small as possible, we'll not include ALL the extra artwork such as portraits, extra Icons, and other stuff, but you will be able to download all the add-on artwork here and a few other places that we'll have links to.

We've just started this new web area, so expect it to explode with a navbar, with many different areas to enjoy!
What IS Dungeon Craft?
Dungeon Craft: UAF is a Gaming Engine RPG game maker (Much like Unlimited Adventures), but UAF has full windows support, is High res, 24-bit color, and extremely high detailed artwork! The Project was started by Richard Turner, which is a programming god IMO, has you can download the BETA of Dungeon Craft: UAF, and see just how much detail, and work has gone into the creation of this program! I've been doing all the artwork for the game so far, and will be creating even more as the program advances in production.

Welcome to the Site
We've finally had time to create the Dungeon Craft: Unlimited Adventures Forever site, this site will have all the latest updates, Artwork, and news concerning the creation of the Game.