Updated on September 30, 2007
| | | |
| --- | --- | --- |
| Dawn of Magic | Oct 2007 | Sky Fallen |
| Tabula Rasa | Oct 19, 2007 | Destination Games (Austin) |
| The Witcher | Oct 30, 2007 | CDProjekt |
| Ultima Online: Kingdom Reborn | TBA 2007 | EA Mythic |
| Stargate Worlds | TBA 2007 | Cheyenne Mountain Entertainment |

© 2021 The Great Escape Studios & Ironworks Gaming All Rights Reserved
Email comments or questions to the Webmaster
Terms under which this Service is Provided to you.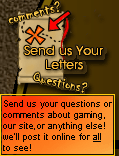 NWN MASSIVE Hakpak Much like the CEP hakpak collection, 'Massive v1.02' is even larger than CEP, adds totally custom items, tilesets, monsters, icons, placeables and 1000's of other things.

Not only does Massive v1.02 have all the best from the custom content Authors, there are tons of custom content created by Ironworks. You will only see this custom content in Massive! Always up-to-date, and created for the Ironworks NWN PW Mod online, called "Escape from Undermountain".
Online since 2002!

---
Remember to visit the Forums for the latest news and information on today's CRPG's!