Sept 28th, 2007
Icewind Dale Nearly completed!
After getting the first Icewind Dale site complete, we have now begun to work on this web area. The site will be completed in a few weeks, and will have many cool new Features! Check back soon!

If you have any hints and Tips for IWD2, email them to us, and when the site is completed in the coming weeks, we'll add them to the site!

Ironworks Gaming



© 2021 The Great Escape Studios & Ironworks Gaming All Rights Reserved
Email comments or questions to the Webmaster
Terms under which this Service is Provided to you.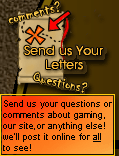 NWN MASSIVE Hakpak Much like the CEP hakpak collection, 'Massive v1.02' is even larger than CEP, adds totally custom items, tilesets, monsters, icons, placeables and 1000's of other things.

Not only does Massive v1.02 have all the best from the custom content Authors, there are tons of custom content created by Ironworks. You will only see this custom content in Massive! Always up-to-date, and created for the Ironworks NWN PW Mod online, called "Escape from Undermountain".
Online since 2002!

---
Remember to visit the Forums for the latest news and information on today's CRPG's!