Built in Cheat Codes
Press Enter and type one of the following
Code
Effect
+zool
Invincible
+chunky
Always chunky
+superchunky
Chunk Factor
+version
Game version
+drdeath
+150 of everything
+shootall
No longer need to click
+sixdemonbag
All summoning spells
+loefervision
No fog
+xrayvision
No textures
+minjooky
Character very small
+maxjooky
Character very big - Caution!
+checksinthemail
999,999 gold
+sniper
Gives all bows 100 meter range
+
Turns cheats on
-
Turns cheats off
© 2019 The Great Escape Studios & Ironworks Gaming All Rights Reserved
Email comments or questions to the Webmaster
Terms under which this Service is Provided to you.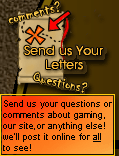 NWN MASSIVE Hakpak Much like the CEP hakpak collection, 'Massive v1.02' is even larger than CEP, adds totally custom items, tilesets, monsters, icons, placeables and 1000's of other things.

Not only does Massive v1.02 have all the best from the custom content Authors, there are tons of custom content created by Ironworks. You will only see this custom content in Massive! Always up-to-date, and created for the Ironworks NWN PW Mod online, called "Escape from Undermountain".
Online since 2002!

---
Remember to visit the Forums for the latest news and information on today's CRPG's!