Classic CRPG Coming!
By Dan Huling | May 1, 2000

Wizards & Warriors is a classic-style 3D party-based CRPG (Much like Eye of the beholder but with Ultima Underworld movement) is being developed at Heuristic Park. Acclaimed designer D.W. Bradley, whose name is a very familiar one to anyone who has been a fan of the genre for more than a few years, (The Wizardry Series) leads the team. With development reported to be progressing steadily toward a projected fall release by Activision, IGN received 10 all new screenshots, and we have them as well! Check these out!

We'll have some exclusive screenshots very soon we've been told, so stay tuned for that as well!
© 2019 The Great Escape Studios & Ironworks Gaming All Rights Reserved
Email comments or questions to the Webmaster
Terms under which this Service is Provided to you.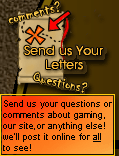 NWN MASSIVE Hakpak Much like the CEP hakpak collection, 'Massive v1.02' is even larger than CEP, adds totally custom items, tilesets, monsters, icons, placeables and 1000's of other things.

Not only does Massive v1.02 have all the best from the custom content Authors, there are tons of custom content created by Ironworks. You will only see this custom content in Massive! Always up-to-date, and created for the Ironworks NWN PW Mod online, called "Escape from Undermountain".
Online since 2002!

---
Remember to visit the Forums for the latest news and information on today's CRPG's!