An In-house Game captures the golden age of RPG's.

Visit their Website
and download the DOS Beta demo!

Its been in the works for 5 years now, and its really shaping up! One guy named Cleveland Mark Blakemore is making this game, no official company, or publisher, this game will be Shareware! Now some things in the Shareware version will be limited, but purchasing the full version will unlock all the features!

Grimoire is a turn-based, 3D, first person perspective Roleplaying adventure in 800x600 256 Color SVGA. The 3D is pixel perfect and smooth scrolling with zero distortion handcrafted graphics.

There is not a rendered image present anywhere in the game, nor has any artist used rendering tools in the production of the graphics.

The style of play is very similar to that of CRPG'S during the golden age of computer Roleplaying before 1992 like Eye of the Beholder, Bane of the Cosmic Forge, Crusaders of the Dark Savant, Might & Magic, The Bard's Tale and other classic games.

The emphasis in the game is on the story, exploration, discovery, character advancement, puzzle solving, strategic phased combat, treasure hunting, inventory management and interaction with the non-player characters encountered during play.

Grimoire will only require the following system requirements:

386SX Motherboard or better (Pentium 90 or better recommended)

DOS / Win 95 / NT / OS-2 / Macintosh PowerPC, 8 megs minimum, 16 megs recommended

VESA Compatible Video Card

Sound Card

Microsoft Mouse

30 megs Hard Drive Space

Some computers may require Sci-Tech's Disk Doctor or the UniVBE drivers to assure VESA compatibility. A chipset specific mode will be available but it may not run on all cards out there. The default is VESA support, but the user will be able to configure it to run on direct video calls to the video card BIOS if his chipset is supported. This can result in speed and performance similar to Direct X or X-mode. Grimoire in chipset specific mode can attain frame rates of 24 fps on a 486. Pretty good for a pixel perfect SVGA game.
© 2021 The Great Escape Studios & Ironworks Gaming All Rights Reserved
Email comments or questions to the Webmaster
Terms under which this Service is Provided to you.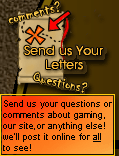 NWN MASSIVE Hakpak Much like the CEP hakpak collection, 'Massive v1.02' is even larger than CEP, adds totally custom items, tilesets, monsters, icons, placeables and 1000's of other things.

Not only does Massive v1.02 have all the best from the custom content Authors, there are tons of custom content created by Ironworks. You will only see this custom content in Massive! Always up-to-date, and created for the Ironworks NWN PW Mod online, called "Escape from Undermountain".
Online since 2002!

---
Remember to visit the Forums for the latest news and information on today's CRPG's!