Baldurs Gate II Goes Gold
Source: Bioware

|

Thursday, Sept 14th 2000

Baldur's Gate II: Shadows of Amn is the latest chapter in the mythic saga that continues the much-loved Baldur's Gate storyline. The Forgotten Realms® adventure ensues along the southern portion of the Sword Coast in the merchant kingdom of Amn. This region includes such diverse environments as the Elven forests of Tethyr, the Cloudpeak Mountains, the Drow cities of the Underdark, and the Capitol City of Amn, Athkatla. Developed by BioWare, the same team responsible for Baldur's Gate, Baldur's Gate II features an incredibly detailed design and story with a highly engrossing plot showcasing immersive environments and dynamic characters that will thrill and engage players throughout the span of the game.

Fifteen NPC's are available to join players in their quest, along with hundreds of completely new creatures and access to over 130 new spells. Hundreds of new items also add flavor to the game, including the legendary Holy Avenger and the venerated Staff of the Magi. Higher-level character development and the exceptionally diverse combat proficiency system will allow for an expanded skill set including Two Weapon Fighting and
single weapon mastery. Over 20 new kits and classes have been added to the already extensive class list from Baldur's Gate to make Baldur's Gate II the most inclusive Advanced Dungeons & Dragons® 2nd edition CRPG ever created.

Baldur's Gate II: Shadows of Amn features an enhanced version of the BioWare Infinity Engine, supporting resolutions of up to 800x600, giving the player superlative graphical improvements and brilliance in a truly immersive world. The new graphics engine also
supports 3-D Accelerator Cards, however they are not required to enjoy the richness of the Baldur's Gate II world. In addition, the entire interface can be hidden to allow full screen which will allow both novice and seasoned role players the opportunity to experience an even richer gameplay experience.

© 2017 The Great Escape Studios & Ironworks Gaming All Rights Reserved
Email comments or questions to the Webmaster
Terms under which this Service is Provided to you.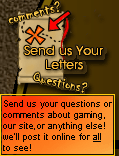 NWN MASSIVE Hakpak Much like the CEP hakpak collection, 'Massive v1.02' is even larger than CEP, adds totally custom items, tilesets, monsters, icons, placeables and 1000's of other things.

Not only does Massive v1.02 have all the best from the custom content Authors, there are tons of custom content created by Ironworks. You will only see this custom content in Massive! Always up-to-date, and created for the Ironworks NWN PW Mod online, called "Escape from Undermountain".
Online since 2002!

---
Remember to visit the Forums for the latest news and information on today's CRPG's!