WARNING

Using some of these programs will pretty much ruin the
gaming experience, it is NOT recommended.
If you want to print out the entire cheat code list
we have a Printer Friendly Codes Page Here


How do I enter the codes in Baldurs Gate?
Step One: Go to the baldur.ini file, and find the section "[Game Options]" and insert the line "Cheats=1". Then save the file, and run the game.

Step Two: In the Game, Hit "CTRL-TAB" to bring up the Console, then type the codes in below, Make SURE you enter them with the "();" i.e. Cheats:CriticalItems();
Cheat List (General)
Cheats:CriticalItems();
Spawns all the Game Critical Items, (i.e. The Diary of Sarevok, Etc)

Cheats:DrizztDefends();
Drizz't will appear, and help you attack your enemies!

Cheats:Midas();
Gives you 500 Gold, & you can KEEP using it as many times as you wish!

Cheats:DrizztAttacks();
Drizz't will appear, and Attack you!

Cheats:TheGreatGonzo();
15-20 Rabid Chickens Appear, they are friendly, so you won't be in any harm.

Cheats:CowKill();
This will give you a Summon Cow Scroll in your Inventory

Cheats:ExploreArea();
Makes the ENTIRE Map you are on Fully Visible.

Cheats:FirstAid();
This will give you the following in your Inventory: 1 Scroll of Stone to Flesh, 5 Healing Potions, 5 Potions of Antidote.

Cheats:Hans();
I have had man different people say it moves you where your cursor is, and other say it moves you away from enemy attack.
Cheat List (Extended)
CLUAConsole:CreateItem("xxx")
Where xxx is the Code for an Item, (Item List Below)

CLUAConsole:CreateCreature("yyy")
Where yyy is the name of a creature or NPC

CLUAConsole:CreateCreature("Khalid")
This will Create the NPC Khalid.

CLUAConsole:CreateCreature("Noober")
This will create Noober, That little Punk! <g>.

Note: The name you enter is limited to 6 characters, so some names are different, as in Jaheira would have to be entered as blah:("Jaheir")


CLUAConsole:SetCurrentXP("8900")
Set the current Experience points for all party members to 8900

Item List

If you would like the CODES for all the Items in Baldurs Gate
for the Cheat Codes Click Here for a Printer-Friendly version


© 2017 The Great Escape Studios & Ironworks Gaming All Rights Reserved
Email comments or questions to the Webmaster
Terms under which this Service is Provided to you.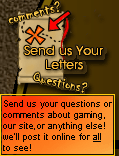 NWN MASSIVE Hakpak Much like the CEP hakpak collection, 'Massive v1.02' is even larger than CEP, adds totally custom items, tilesets, monsters, icons, placeables and 1000's of other things.

Not only does Massive v1.02 have all the best from the custom content Authors, there are tons of custom content created by Ironworks. You will only see this custom content in Massive! Always up-to-date, and created for the Ironworks NWN PW Mod online, called "Escape from Undermountain".
Online since 2002!

---
Remember to visit the Forums for the latest news and information on today's CRPG's!