WARNING

Using some of these programs will pretty much ruin the
gaming experience, it is NOT recommended.
"Last Fight" Saved Game
620KB
Want to Get to the Endgame of Baldurs Gate (not TotSC)? This will do it, with no Skills needed <g>.
N/A
Play as Drizzt
494KB
If you have ever wanted to play as the Famed "Drizzt'", then heres you chance! - Created By Andy Gale!
N/A
11+ Trainer
140KB
Created by Razor 911-- Does NOT Work with TotSC.

N/A
The Gatekeeper Character Editor
176KB
This is THE BEST Editor on the Internet! it works With Baldurs Gate Patched or not, and TotSC (limited though) -- Created by Aaron O'Neil.
Level Cap Remover v1.0
82KB
Developed by Razor 911-- Does not work With TotSC
N/A
BGhack Exp Cap Remover
27KB
For Either Release Version or Patch 1 -- by Sgraffite
N/A
GruntWar Exp. Point Cap Remover
82KB
This one is a patch that removes the experience points cap. Works with all versions of BG and TotSC I believe.
N/A
Cife
138KB
This one will allow you to manipulate the character creation.
N/A
BG Edit 0.5.2
109KB
Baldur's Gate Saved Game Editor made by Brian Frappier
N/A

© 2017 The Great Escape Studios & Ironworks Gaming All Rights Reserved
Email comments or questions to the Webmaster
Terms under which this Service is Provided to you.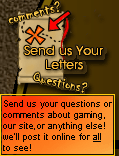 NWN MASSIVE Hakpak Much like the CEP hakpak collection, 'Massive v1.02' is even larger than CEP, adds totally custom items, tilesets, monsters, icons, placeables and 1000's of other things.

Not only does Massive v1.02 have all the best from the custom content Authors, there are tons of custom content created by Ironworks. You will only see this custom content in Massive! Always up-to-date, and created for the Ironworks NWN PW Mod online, called "Escape from Undermountain".
Online since 2002!

---
Remember to visit the Forums for the latest news and information on today's CRPG's!