Tales of the Sword Coast Hints and Tips

Durlag's Tower
This is a pretty hard quest, hard not because of the Monsters, but the TRAPS.. be VERY ready for traps of ALL Kinds, Traps on Bookcases, Floors, Chests, and even Candlesticks!

Make sure your thief has at least a 85-90% chance of detecting traps, this is a must.. or use the spell detect traps, this will also help a lot..

Many of you are asking how to use the Gong, well, you will find a Mallet, and a Mallet Head, when you have both, take the entire party to the Anvil, then it will FIX the mallet, and then go to the gong, this will complete one of the Riddles.

Finishing all 4 Riddles
Watch out on your way back to talk to the last guy when you complete the last riddle, after you talk to them, he will say, "You must kill me to get the Key", then all 4 of the little punks attack you! This is a harder battle than some, so be ready, cast Bless, and other prep spells before talking to the last guy.

"Odd looking Gem" - Tip Posted By Vincent N. Robinson
Be very careful to look at all your Gems, one of them will say something like "This is a rare Gem, but looks Odd", This odd (valuable!) gem on the level with the four warders is to be given to one of them. The key for the unpickable desk drawer I believe is in a trunk, in a closet in the bedroom to the south of there.

Other Hints I will give for TotSC: Carry as many healing potions as possible into the Tower, and don't worry about taking missile weapons in. If you are careful and want to spend the time like I did, you can even exit at times to sell your loot at the "store" right near the tower, as you will soon fill up your backpack slots.

If you have a choice to go upstairs or downstairs when in the tower, go up first.
Save often and in different slots, in the rare case that you get stuck in the dungeons somehow.

If the target won't perish nor give chase, perhaps you can hit it a few times and run away, lest you expend all of your party's missile weapons in a possibly vain attempt If the penalty for checkmate is death, you'd better cheat, as you know your opponent will.

Some foes and rooms may be better avoided, if you are weakened and can find another path to your destination, but very few rooms hold no reward for your effort.
Some things, are simply best left untouched until the foe is vanquished...

It is usually best, to be "presentable" to your host when returning from a mission such as Durlag's Tower, they don't like seeing half dead adventurers bleeding on them, so always rest up first. (this damn near got me wiped out, what with the huge battles!!)

Oh, and get the beta (or final) patch before entering it, to save much grief.
These are simple but could help a lot without spoiling any fun. Feel free to do what you want with them. I don't like giving specific or exacting hints so I am vague on purpose. :-)

"Werecreatures" - Tip Posted By Parn1313@aol.com
Make sure to pick pocket the psychotic mage (in the shack next to Balduran's Ship) for an extra wolfs bane necklace.
Also, save and then attack this mage, just for fun, as he has an interesting attack. I actually survived two of these attacks, but I am not sure if he is killable.
To kill the "boss" or greater wolfwere I think you may need to use the silver dagger, so make sure that someone other then a mage can use small weapons.
Finally, most of the containers in Balduran's ship are trapped. May the fates smile on your quest.

If your thief doesn't have high find trap scores, stock up on potions of perception, but generally avoid potions of master thievery. Remember, potions of perception build up, so if your in a jam, down two or three. They last for 6 hours or so as well, so you can cover a couple of levels.

Also, it seems that the programmers really like traps. The ice cave is also filled with traps, mainly of the magical variety. The mage Shandalar transports you to this island, which is stocked with magic users. Obviously, you should stock up on magical resistance potions. Oh, and beware the Ankhegs.

As a last tip for the whole game, emotion-hopelessness is one of the best spells in the whole game. Use it with pride. Or against lycanthropes

"Durlags Tower and the Demon Quest"
I just got through Durlags Tower and the demon quest. Whew! what a fight! Wasted 40 bolts of biting and 2 wands of frost on that demon plus some. Found a Nice trick I tried third time trying to kill him and after I figured out that the little cobra looking icon meant my guy was gonna turn into a ghast (oops). To keep my guys from being stunned and poly'd I kept my hasted thief loaded with 20 arrows of dispelling from Durlags tower. One shot, and poof! no more hold!

I think I used 12 arrows up just doing that trick and none of my guys died! Bring on the death gaze! The potions of freedom just didn't seem to be all that effective and he resisted the otilukes sphere.

"Monster Infested Ship" - Tip Posted By Vincent Robinson
When returning from the monster-infested ship, take care of all other quests by talking to everyone, before you talk to the town leader.
There will be NO second chance to collect your rewards for them, after you have spoken with her.

"Tips in Ulgoth's Beard" - Tip posted By Vincent San Pedro
In Ulgoth's Beard, try to Pickpocket every NPC. the wizard gives juicy new spells, the gnome wears a ring of freedom, the dwarf has a hammer I haven't identified.

"Battle Plans in Durlags Tower"
Here is a battle plan for two area in Durlags Tower.

Chess Game
You will come to an area of Durlags tower that you must face foes in four chambers. There is a riddle that warns that after all are beaten the game will begin. Save the second from the top till last. I found it to be the easiest and will let you prepare for the next section. Before you kill the Fusion Slime in the area prepare your group because you will instantly be teleported to "the game". When you are teleported there you will find your self on a Chess board.

You will have to follow the rules they give you of suffer lightning strikes.

Here is the tactic I used to finish it quite easily. Don't let anybody move! I used my wizards to cast web on the middle right of the board. This stopped them almost completely. I then used my archer to target the farthest enemy they could with arrows of detonation. While I pounded the helpless victim I used basic monster summoning and summon skeletons to handle the 2 people who actually made it across the board. The summoned creatures were free to move anywhere. The rest of my party had missile weapons to help with the closer targets. The battle went quickly and when they were all dead you are free to walk right across the board.


Wyrens Cave
In a lower level of Durlags tower you will come into a room with a repeating fireball blast. to the north of it there is a Wyrens cave. I entered on the west side of it. There are several statues that if you click on them will come alive and serve you but under dire harm. When it wears off they will attack you. I drew the Wyrens out one at a time. They were tough but I managed to kill them all with little harm to my group. After that I went to each one of the statues in turn animating them. I would then surround them, have my thief hide and then backstab them. I would then pound them and get the exp and minimal treasure from them. Another way to kill them is to have them walk into the fireball room and just stand there but no exp for that. Or have them stand on side of it and have an archer shoot them from the other side. They will walk across and you can close the door on them and let the fireball do the rest.


© 2019 The Great Escape Studios & Ironworks Gaming All Rights Reserved
Email comments or questions to the Webmaster
Terms under which this Service is Provided to you.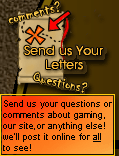 NWN MASSIVE Hakpak Much like the CEP hakpak collection, 'Massive v1.02' is even larger than CEP, adds totally custom items, tilesets, monsters, icons, placeables and 1000's of other things.

Not only does Massive v1.02 have all the best from the custom content Authors, there are tons of custom content created by Ironworks. You will only see this custom content in Massive! Always up-to-date, and created for the Ironworks NWN PW Mod online, called "Escape from Undermountain".
Online since 2002!

---
Remember to visit the Forums for the latest news and information on today's CRPG's!