Return to tgeweb
Submit RPG News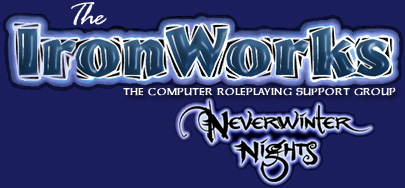 | | | |
| --- | --- | --- |
| | | |

Company Links
BioWare Corp
Developers of Neverwinter Nights, Baldur's Gate, and Tales of the Sword Coast!

Interplay
The company that has published the likes of Baldurs Gate, TotSC, and tons more titles!

Wizards of the Coast
The Company that now owns TSR, but WotC is owned by Hasbro/Mattel. Besides the Dungeons and Dragons license, they also own the Magic: The Gathering line.


Gaming Links

Neverwinter Nights Vault
Vault Network's Neverwinter Nights site. It has a few goodies, but not as much as a few others here on the list. They do have interviews with the programmers, which is cool!

Planet Neverwinter
RPG Planet's Neverwinter Nights site, its got tons of articles and interviews on the game, and all the latest information and screenshots too!

Neverwinter Nexus
This is a great site that hosts mods for NWN1 and 2. It's been around for a long time, and is one of the greats!

NWN Wiki Project
All kinds of information for NWN and NWN2! If you have a question, the NWN Wiki probably has the answer!

RPG Planet has a brand new Preview on Divine Divinity! Check it out, it's looking to be a really sweet RPG Game!

Website
Design v3.1
In the next few weeks, you will see the NEW Web Design being integrated into all the areas of the site. Along with a cool new look, we'll have lots of new features!

The latest version of Dungeon Craft is currently 0.860.

Be sure to check out the Escape Gaming's Official Dungeon Craft Webarea for lots of Art for DC!

RELEASE DATES
Updated 10/10/2002
| | |
| --- | --- |
| ASHERON'S CALL 2 | Q4/2002 |
| ARX FATALIS | 10/27/02 |
| HORIZONS | 06/2002 |
| BLACK MOON CHRONICLES | canceled |
| POOLS OF TWILIGHT (DC) | 3/2003 |
| EYE OF THE BEHOLDER 4: XANATHAR'S REVENGE (DC) | 6/2003 |
Invisible Dream has a great preview of WoW! As well as some of the best looking screenshots I've seen in a game!