12-11-2005:


New DVD quality SFME1 Clip
It's the same one just released below, but the quality is 200% better, and new scenes have been added and reshot. It's now 14MB.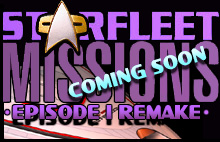 Remake of the First Episode FIRST!
Over the past five Months, we have been working on the remake of the first Starfleet Missions movie. Originally released in 1994, the graphics are very out-dated. We are working for a release date of July 2004. The original was done in Deluxe Paint Animation, and the remake will be done in trueSpace 6.5 with full music score, and voice and sound effects.

What about Starfleet Missions II you ask? well, production on that was halted until this is released, and it is mostly complete, and we will need people to do voice-overs, so if you have a good speaking voice, and can maybe do more than one voice, Email me with a sample!


04-07-2001:
NEW 30 Second Animated Clip!

Uploaded April 7th 2001, is the first of a series of 30 second 'previews' of the sets that are used in Starfleet Missions II. Their IS one 'hiccup' in this AVI (A camera error, but it only lasts 3 frames)
This AVI REQUIRES the Div-X Codec, which can be downloaded Here. This 30 second animation is a walk-around in Starfleet Academy grounds (West wing complex). The AVI is 3.7MB



Download 30 second Movie Here
12-21-2000:
Starfleet Missions - What is it?

I've added a page explaining all about this series, and what you can expect in this upcoming Animated movie. This movie has been in the process for over 4 years, and twice so far, I have re constructed models/sets and people because of new technology, and new, up-to-date effects trueSpace offers now. If I kept these 'old' rendered animation cuts, they would look bad compared to the newer ones--hence the remake.

I know many of you have been waiting a very long time, and I know you want to see it. (I want to see it) <g>, and I have rendered a small 30 second clip of what Starfleet Academy looks like (The 3D Set). over 1 million polygons!


09-21-2000:
5 Brand New Screenshots!

We've added 5 new screenshots so go check them out and let us know what ya think so far! You can also download an AVI of a test I did in the building that the screenshots show off.